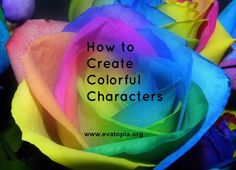 If a reader calls your book "formulaic," it might mean that the plot isn't compelling and you need to create colorful characters. If you've created a character "type" that we've seen too many times before, chances are the reviews won't be stellar. Yet, we're all exposed to the same stimuli; and therefore, it's hard to think of new scenarios. One of the best ways to encourage your plot and your sales to soar is by ensuring that your characters are new and exciting. Learn how to create colorful characters.
Ask yourself 'what if' …
I like to ask myself "what if"… Let's suppose my main character is a suburban mom. If you're going the comedy route, you could ask, "What if she's mistaken to be a pop singer/actress/porn star while on vacation? … And decides she likes it!" If it's a suspense thriller you're writing you could ask, "What if her husband embezzles a fortune, goes on the lam and she's forced to protect the kids and herself from the thugs that come after them?"
Create colorful characters with a fatal flaw
Is there one particular thing that will just set off your character? For instance, maybe they've achieved a certain level of success in their lives. They have a good job, a beautiful family, but they can't get over the fact that their neighbor seems to have it just a little bit better? How do they react when they see their neighbor driving a brand new car? Or, when that same person invites them over to celebrate their latest job promotion? If your character were to suddenly go off the handle and yet, we've gotten to know and like him prior, you've created a colorful character in the fact that we both sympathize with him and also see a train wreck about to occur.
Create colorful characters that are relatable
I love those mouth-dropping-open moments in films or television shows when you just can't believe the character has reacted in a particular way. It's like when Walter White from "Breaking Bad" killed off Jesse's girlfriend without a second thought. How could he? He likes Jesse. In spite of what we, as the audience, think about his actions, we can relate. We understand his motivation. He hadn't come this far to let someone get in his way.
Does your character act cringe-worthy?
Cringe-worthy moments make for are equally colorful characters. Those times when you cover your eyes and say, "Oh no, he's not going to do that." This is the fodder of date movies like "There's Something About Mary" when she finds an "interesting" new hair gel.
You can create colorful characters when you know your character backwards and forwards. You know what they love or fear. You have a clear understanding of how they relate to other people and what impacts their life. Check out this related article, "13 Ways to Create Compelling Characters" for more ideas. Do you have a favorite character? Let me know what makes them compelling to you.