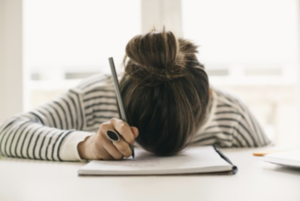 Are you a writer who starts a project, but won't finish? If you delve into your writing, but find there isn't enough "meat" to get to the finish line, it may be fair to stop. But if you stop work on a project because you lack stamina, perhaps you've forgotten that writing is a process. Like long distance runs, you must pace yourself, not sprint toward 'the end.'
In her magically perfect ever so wonderful book (you can tell I'm a fan), "Bird by Bird," Anne Lamott explains this thought process to her son. When faced with a seemingly impossible writing task — a report on birds — she tells him just to focus on bird by bird. In other words, take each chapter as it comes and allow yourself the freedom to relax.
A Case for an Outline
But what if you run out of ideas and steam along the way? This is why I believe there is always a need for an outline. It's your roadmap to completion. K.M. Weiland offers an excellent workbook to help authors through the outlining process. I always outline my books, but I also give myself permission to meander a bit. If my outline sparks an idea, I may go off on a tangent when creativity within is flowing. However, I always return to my outline — the roadmap — after I've taken the scenic route.
Writing is a Process
Have you ever heard of any writer who publishes their work after only one draft? It doesn't happen. And, if it does, I will be so bold as to declare, it shouldn't happen. You're writing is not perfect… until it is. Here's my favorite piece of writing advice… allow yourself to be imperfect. You don't have to craft a perfect first sentence in order to move on to the next sentence. The same goes with each chapter. You don't have to re-read what you've done in order to have permission to move forward. In fact, re-reading before you've completed your first draft is a sure-fire way to not finish your novel. Get your ideas on paper. All of them! Then, once you have a semblance of your plot with its twists and turns, then you can add polishing touches.
When is your Novel Finished?
Asking when your novel is finished may seem like an odd question, particularly to new writers. However, experienced novelists know that the writing process can go on and on. You can ensure that the plot isn't predictable. Good writers will vary their sentence length. Review your characters' personalities and language to ensure they are original. Furthermore, does the language vary enough between characters or do they all sound similar? Once you get comfortable in taking your time, you'll know that the writing process unfolds slowly and you will embrace those subtle shifts.
A Satisfying 'The End'
When you've done everything you can and looked at every chapters, line, word, and character flaw, then you will probably want to enlist some friendly readers to get their opinion. I recommend asking for tough love readers  — those who will tell you the truth. Their opinions may result in the need for more re-writing, but in the end, that is a gift. They are telling you how to make your writing better before the world sees it. And with that gift, you'll remember that writing is a process.